A Dreamy Destination Called Saraii
Text - Shrilekha Venkateswar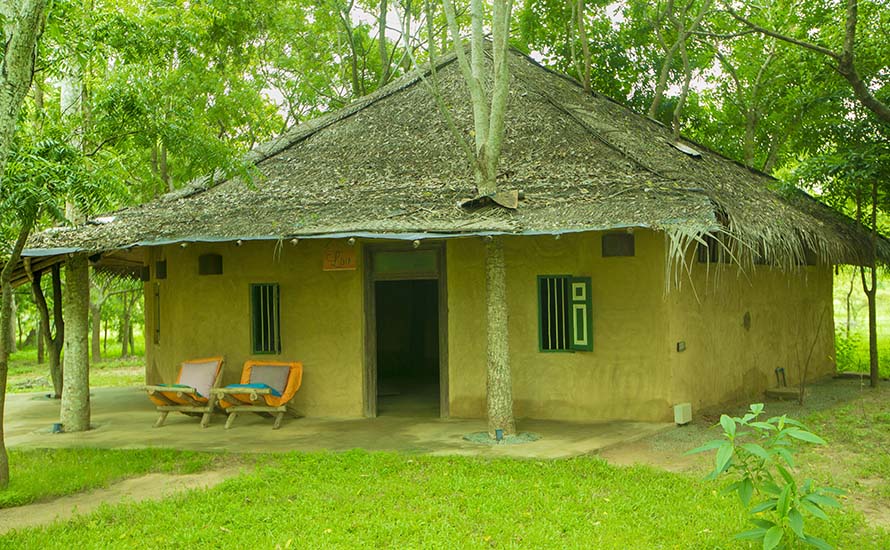 As ecotourism garners interest among many travellers, eco resorts have popped up almost everywhere in Sri Lanka. As a matter of fact, the ecotourism industry is growing so rapidly that it would be quite impossible to map which countries have become the eco-destinations, especially when the term "eco" is thrown around so readily that it can be hard to tell what is genuine and what is simply a marketing plot.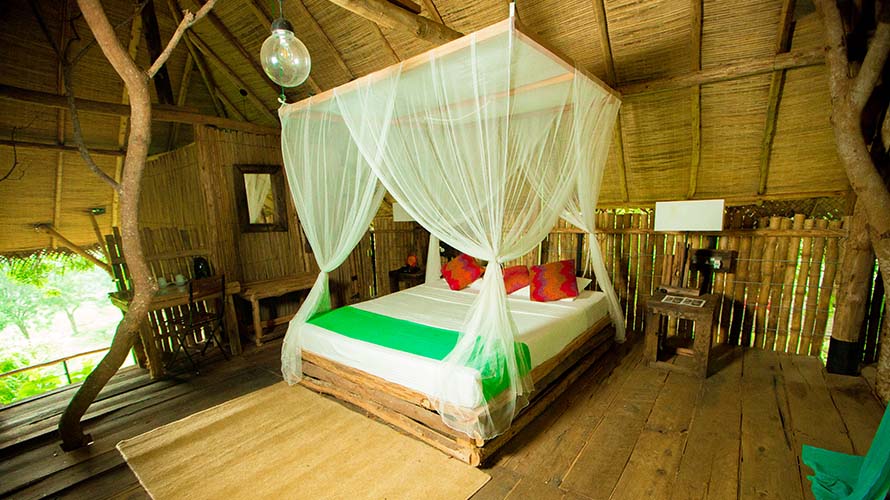 Ecotourism at its heart not only preserves natural habitats and indigenous cultures and species, but actually works in favour of conservation by bringing additional resources that the local economy would otherwise not have, so the applications of the term can be quite different, which makes ranking such locations even more difficult - if not impossible.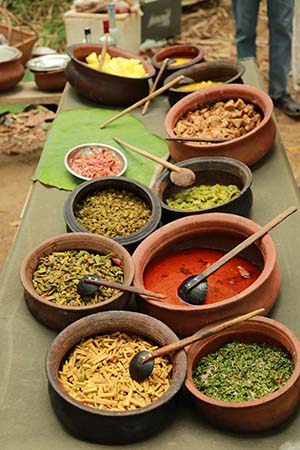 In a picturesque country of Sri Lanka, my partner and I landed in Weerawila, a lovely little hamlet that is just 20 Kms away from Yala National Park. We were to stay for the next four days in a eco resort named Saraii, which had raving reviews all over the internet. Carefully tucked away in a lush green environment, the space of Saraii could surprise you in each and every step. The first building that one would notice is the Front Office, which functions more than what a traditional front office does. The walls and the floors are adorned by important information of Yala National Park and what one should and should not expect. A neat black board, listing down the 'special and exclusive activities' in Saraii helps the guests to get information. The office, to me looked more like a meeting hub not just for guests who are checking in, but for the whole lot of occupants who would just like to gather around and have a quick chat.

It was quite late in the evening when we reached Saraii and it was quite refreshing to notice that the common dining area, was already almost full, with people from different nationalities speaking about nothing other than the forest itself. We have to mention the fact that the Saraii Team went out of their way to construct a make shift washroom just for us! My parnter and I were on this one month trip to SL and for some reason, we had to arrive at Saraii a day earlier. Instead of feeling sorry and saying no to a guest, they gave us a cosy tent and a private bathroom for that night. That gesture truly stayed in our hearts, for I have never seen such hospitality.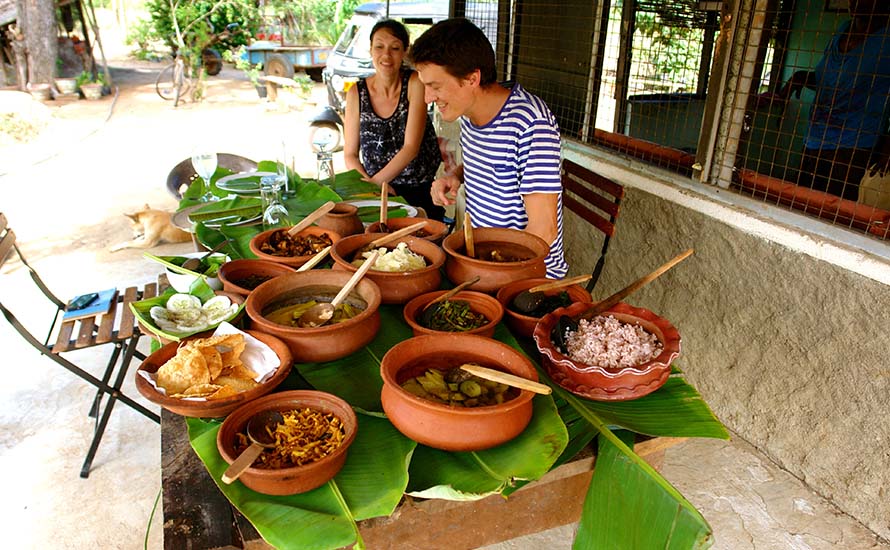 After refreshing ourselves, we joined the others in the dining area, mainly to take part in the lovely conversation about nature. It occurred to at that time that these are the meaningful conversations, truly! To talk about nature and to discover the zillion unknown facts of nature. Our forefathers were doing just this - living in harmony with nature and always evolved by discovering things. Ironically people are now comfortable with the existing lifestyle and conversations have become as minimum as possible. It is only in places like Saraii, where access to mobile networks or internet is minimal, people indulge in conversations.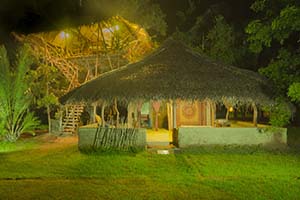 The cuisine was authentic Sri Lankan. Every dish was kept elegant and simple. Even if the guests wanted a burger, there was never a 'no' from the team. The burger was of course done the Sri Lankan way, using the local spices. Saraii believes in slow cooking as well; so all that you consume are organic vegetables, grown in nearby farms, cooked slowly to perfection, filled with all the richness that any food ought to offer.

The soul of Saraii is Charitha Abeyratne Hettiarachchi. She is the Founder of Saraii Village and you can evidently see her passion in just five minutes into the conversation. It is true that the word Saraii means essence, but I would say that the essence of Saraii is Charitha herself. Her story is not just inspiring but intriguing; She secured a Fullbright scholarship and made Saraii a part of her MBA programme, which focused on Global Social Sustainable Enterprise in the United States. Charitha and her team mates from the programme spent a year travelling around Sri Lanka to do a feasibility study on where to set up Saraii. Their last stop was Weerawila, where Charitha's husband owned this piece of land. It was then Charitha took a minute and gazed the environment around her and said "my husband planted every single tree himself in this land. We have 1200 of them"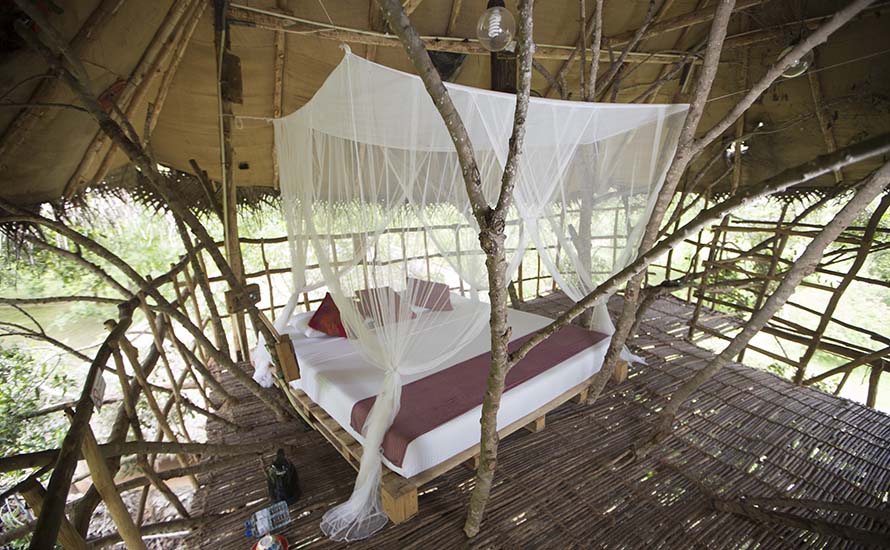 After figuring out that Weerawila is the right place to establish Saraii Village, the entire team went back to Colorado State University to submit their report. Sadly, Charitha's team mates dropped out of the project by not implementing the model, while Charitha went on with it. The urge to create Saraii just grew within her and there was no looking back from that point. She would save half her stipend to spend on her dream project 'Saraii Village'.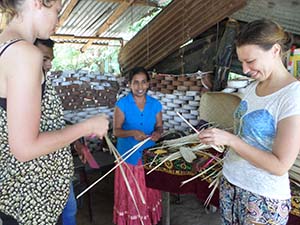 There are around twelve chalets in Saraii out of which there are six tree houses, six mud chalets along with a salt water pool, restaurant and a pool bar. There is no shortage of space and view in any of the rooms. One of the strongest reason to stay in Saraii is the tree house. This was a very unique experience by itself. Giant old trees happily thriving in the property have been used to build a tree house. It is extremely commendable to note that the trees were not disturbed in the process nor do they bear the weight of the structure. As much as five trees are connected to make a tree house and you are embraced to nature herself. I would say staying in the tree house was a divine experience by itself. You have these massive barks of the tree right beside your bed and its branches extending to the study area. We believe that Saraii has the best of the tree houses in India and Sri Lanka put together.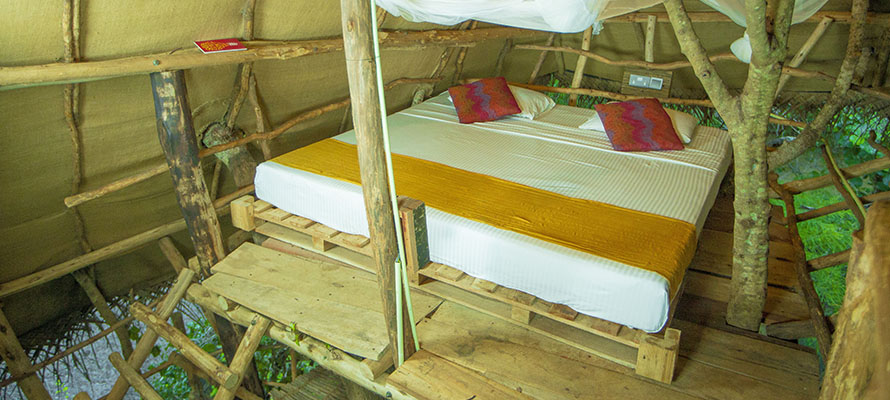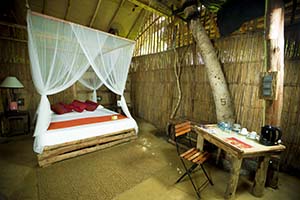 The safaris to the jungle for Saraii is conducted by Green Safari. Our safari driver H.M Abekon is a rather enterprising person. Yale by itself is known as the leopard capital of the world. Therefore one can imagine the number of tourists it could attract and the expectations anyone would have from the forest (sadly). In order to meet up with the tourists expectation of "we have to see the leopard" and also for the extra bucks, several safari drivers resort to unfriendly forest methods which includes driving fast and blocking the animal from further movement once sighted. Abekon was an exception. He is a retired Forest Department staff who had once walked all across the forest during his service. He started off as a driver for the Department and eventually was promoted as a Forest Ranger. After having served very successfully during his tenure, Abekon decided to continue his fling with nature as a safari driver. We were thanking Saraii in our minds every time we saw another set of tourists with a reckless or inexperienced drivers. It is to be noted that one of the crucial aspect of ecotourism is to ensure that every single (external) association of the establishment also believes in the concept of ecotourism. Safari is a crucial part of ecotourism and Saraii have teamed up with the right one!

Lazily gazing from our tree house verandah, we were making a oral list of the birds we saw. Added to 35 from 4 days visit. We also noticed one of the staff carrying a hot cup of tea for us, making us realise that Saraii is just about everything - the lovely people working here, the marvel of a architecture of the tree house, the incredible safari, authentic Sri Lankan food and at the heart of it lies its soul which is Charitha, her vision and the experience she is offering.