Gaj Raaj (The King Of The Elephants)
Text & Photographs - T.N.C.Vaageesh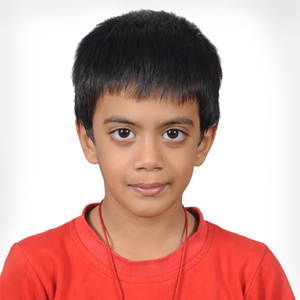 SCENE - 1
Narrator: Ajji (Grandma) was relaxing in her rolling chair when suddenly Karak Singh (Farmer) came running down the road.
Karak Singh: Run! Run! The elephants are coming! Run! Save your lives!
Ajji: Children! Quick, all of you grab everything and come inside, quick!
Narrator: Everyone ran inside the house, secured everything and ran to a safe room. After some time, when they came outside almost everything was destroyed.
Mohan (Eldest Grandson): Curse those elephants!
Sathyaraj (Second Grandson): True, we must destroy them
Jagat (Third Grandson): Yes, I agree with you, bhaiya
Rani (Granddaughter): Yes, we must kill them
Narrator: All the children agreed with Mohan, except for the elders who shook their heads in disbelief on this cruel expression from the children
Mohan: What`s wrong Ajji?

---
SCENE - 2
Narrator: In the deep woods, sat two elephants!
Ajji: Shhhhh, listen, they are talking!
Haj (A common Elephant): Gajju, did you have to destroy that poor farmers fields?
Gajju (A common Elephant): Yeah, so what?
Haj: Did you see how pale and sad he looks, he did nothing to harm us. In fact his family has always protected us from danger and this is how we repay him?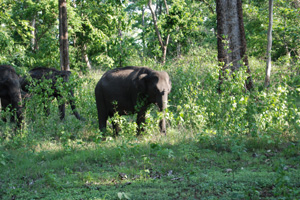 Gajju: Ha, Haj you are so soft. The farmer is a fool, he can grow his crops again, but can we, no we can't.
Haj: You see Gajju, they may be cutting down trees and killing animals, but they also plant trees back. I learn from Mangu (the monkey) that they are not killing the animals, instead they are putting them to sleep and are treating their wounds.
Gajju: Is that so?
Haj: Yes, also the weaver whose house you thrashed the other day is trying to persuade the children from calling the hunters.
Gajju: What! Those puny humans in strange dress and sticks, what can they do to us?. I'll just mash them to paste.
Haj: Those 'sticks' as you call them spit fire which will kill us in an instant. The "hunters" will be riding on elephants who are specially trained to kill wild elephants like us!
Gajju: Wha aaaaaa, what!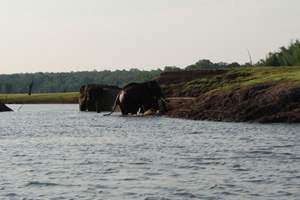 Haj: And your childish behavior will soon result in the cost of our lives!!!
Gajju: Okay. I agree that the farmer is innocent but that weaver is mean, he keeps on throwing his waste material on my bed!!!!
Haj: That's because the village does not have enough money to hire eco-friendly garbage carts and bins to collect and dispose waste in a sustainable manner
Gajju: They are just lazy, can't they build the bins themselves?
Haj: That is because, the material required to build them is in the forest and the villagers do not want to either disturb or destroy our habitat.
Gajju: I'm sorry, I didn't know these details. Will you forgive me Haj?
Ajji: We all will Gajju.
Gajju: Who said that?
Villagers: We did!
Narrator: The elephants turned around to see the entire village behind them.
Haj: So you heard the entire conversation?
Ajji: Yes and we thank you Haj for persuading your friend to follow the right path. We also appreciate you Gajju for heeding Haj's advice. Is there anything we can do to repay you both?
Haj: We will help you identify the materials you will need to build your eco-friendly garbage carts and bins. We will be happy to show the guest who visit our forest its beauty and diversity by giving them piggy-back rides. This will help you to earn money from tourism on a sustainable basis. In return could you please persuade your local government to turn our forest into a natural reserve?
Ajji: Thank you, these will benefit us all. Yes we will have this forest turned into a reserve.
Haj: Thank you so much.
Narrator: Just then, a tiny calf came and…..
Mattur (A young elephant calf): Daddy, daddy, when will I give piggy rides to the children who are visiting?
Haj: Ha ha, soon my baby, soon.
Narrator: And they all burst out laughing……

End note
And so we end this story on a happy note.
Narrator: So kids, we can learn from this story on how we can help our big friends and the villages. If the villagers can do it, we people living in cities can also do our bit.

By T.N.C.VAAGEESH
Blog: www.aboywithtales.com